Owned By a Home Inspector – So We Know The Business and What You Need
We are a Digital Marketing Firm Specializing in Home Inspectors and Working in Home Inspection Websites, SEO, Social Media, & More!
See What Other Inspectors Have to Say!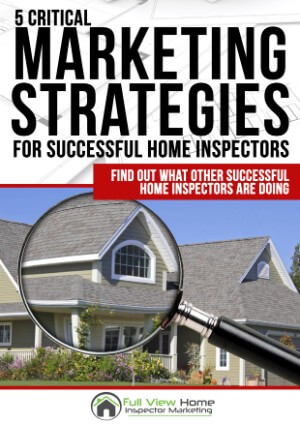 Start or Expand Your Home Inspection Business
Learn what successful home inspectors are doing to start and expand their business. Download our free e-book and learn the marketing secrets you need to know.
The Beginner
Just getting started? Then this is the plan for you. Build your online presence on a solid foundation with The Beginner plan.
The Journeyman
Have some experience? Want to go ahead and push into blogging and social media? Then this plan is for you.
The Master Marketer
The Master Marketer has been our flagship plan for many years. Push your way to the top with more aggressive SEO.
The Local Guru
Want to dominate your local market? Want to capture more leads and grow into other markets? Then try The Local Guru.
A Long List Of Happy Clients
We have helped home inspectors all across the U.S. and Canada solidify their online presence.
We are an InterNACHI approved vendor and we have a reputation that we are proud of in the home inspection community.
You can find us on the InterNACHI forum, and you can also see how many other home inspectors love working with us!
Home Inspection Websites
One of the foundations of our company is our websites. We build your social media campaign around your website and your brand. Below are just some of our home inspector websites that we have created for home inspectors just like you across the US and Canada.
You are an expert at what you do, so let us help you get the word out!
While thinking about your home inspection business, ask yourself:
What are my target keywords?
What is the keyword density of my website?
How does a contact page increase my SEO?
What are metrics?
How do videos and audios increase your business?
What is my website's rank on Google?
---
If you are like most home inspectors, these questions seem daunting. And that is absolutely normal. But that is why we are here! I have started, operated, and marketed three successful home inspection companies that I still run to this day. We know the ins-and-outs of the home inspection business, how to elevate your company and get you the internet exposure you need.
Contact us and we can help you get on the right track and create a powerful marketing strategy! Want to take a stab at it yourself? Take a look at our blog articles: Home Inspection Websites and Online Marketing for Home Inspectors.
Home Inspection Websites
"You are the web and SEO Man!👍 I'm getting a ton of business from the site, it's bangin. Been getting a lot of online orders and so many Realtors referring me now it's crazy. I'm working much closer to home than I ever have and working 7 days a week with an average of 3 Inspections per day Monday through Friday and at least one Saturday and Sunday."
"Love Your Work"
Love your work by the way. Not sure if I told you or not. But we are already competing with the top guys around here causing quite a stir. I actually have realtors telling my clients I am too thorough because they are so used to these inspectors bending over backwards for them and I refuse to do it, 3 years now and not 1 realtor will come back to me even though I give them a fully satisfied client every time, i am inundated with realtor muck here. If that goes to show you what I am dealing with here. And I could not do it without the amazing website bringing in plenty of business to me making me not rely on referrals from them. I do not even have to solicit any of them and I love it. Thank you.
Home Inspector SEO
"Well this is how I see it. You got me where I'm at online. So anything you think would be best I'll do it. Right now the website is awesome, Realtors and Clients are telling me that. Thanks"
Home Inspection Websites
"If you are looking for a great SEO company, think of Full View Home Inspector Marketing! Those guys are great, and they really turned around our company"
Home Inspection Web Design
"Best web designer and marketing company for any home inspector. Too cheap to not have and Full View  is amazing and always is extremely prompt in communications. It only took me 3 weeks with their service to reach page 1 on Google for my targeted area. Needless to say I am happy and don't plan on leaving anytime soon."
Websites for Home Inspectors
"We were looking at updating our static, old website, after a fellow home inspector showed us his newly done website we contacted Ian. When we talked with him the first time, he had done his research on us and said he had a vision for our website that would be perfect. He was right. He has delivered a website that truly represents us as a company. Thanks Ian and Full View Home Inspector Marketing for coming up BIG for us!"
Home Inspection Marketing
"Full View has been amazing for my company. I've been with them for several years and in several different markets and their hard work has been a major part for my successful online presence. Highly recommend!!"
Best Value
"Full View Home Inspector Marketing is by far one of the best values in the home inspection industry. I recommend them to any home inspector who needs a website, SEO, marketing, Social media, or anything else online"
Home Inspection Websites
"I switched from another website company that worked with different business types. I thought they would do a good job, but they didn't understand the home inspection business. Full View only works with home inspectors, and the content they wrote and website they designed were great. Their social media posts also got more real estate agent attention, and my clients liked them too"
InterNACHI Website Design
"I just got back and looked at the landing page work….FRICKIN AWSOME!!!!!"
Home Inspection Website Design
"I have used Full View Digital Marketing for nearly a year now. What they accomplished exceeded my expectations. They built a great website and got it to page 1 on Google in my local market. Ian is a great person to work with; honest, fair, and helpful. He extended unsolicited help to me personally, during an extremely difficult time in my life, showing himself to be a great human being as well. You cannot go wrong with his marketing help and website development. You cannot go wrong with Full View Digital Marketing."
Home Inspection Leads
"Had a client book a inspection earlier today directly related to my website and active content. He is a web designer and stated the reason he hired me was site and updated info (you)."